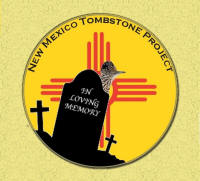 Return to Cemetery Index

Cemetery Names A to H I to P Q to Z Directions:
Dixon (New) Catholic Cemetery
Dixon, Rio Arriba County, New Mexico

Directions: S on CR 549 from NM 75 on W side of general store in Dixon. Keep left and follow road S up onto mesa.
The New cemetery is the first cemetery on the east side of road.
| | |
| --- | --- |
| Cemetery | Dixon (New) Catholic Cemetery |
| County | Rio Arriba |
| GPS | N36.19485, W105.88628 |
| MAP | |
| | | | | | |
| --- | --- | --- | --- | --- | --- |
| Last name | First name | Birth date | Death date | Age | Inscription |
| ARCHULETA | Carl | 1965 Sep 27 | 2001 Apr 4 | 35 | ~ |
| ARCHULETA | Patricio | 1917 Mar 3 | 1952 Feb 27 | 34 | NM Pfc 164 Inf World War II BSM |
| ARCHULETA | Tomas D. | 1856 | 1936 | 80 | ~ |
| ATENCIO | Concepcion S. | 1894 Dec 8 | 1981 May 4 | 86 | Mother |
| MARTINEZ | Aaron Lee | 1963 Jan 28 | 2007 Jan 31 | 44 | ~ |
| ORTIZ | Minnie M. | 1942 Apr 15 | 2007 Dec 9 | 65 | Wife of Ben Ortiz |
| ROMERO | Carl | 1966 Nov 13 | 2004 Sep 12 | 37 | Beloved Son, Father & Brother |
| TRUJILLO | Nieves de la Sierra | 1851 | 1926 | 75 | ~ |
| VALDEZ | Eva Orlinda | ~ | 1934 Sep 23 | ~ | ~ |
| VALDEZ | Johnny | 1921 | 1927 | 6 | ~ |
| VALDEZ | Tony | 1930 Apr 28 | 1951 Nov 17 | 19 | ~ |
New Mexico Transcriptions Projects
New Mexico Headstone Projects
New Mexico Cemetery Projects