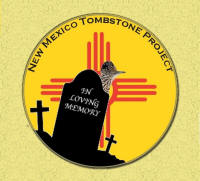 Return to Cemetery Index

Cemetery Names A to H I to P Q to Z Directions:
Embudo Presbyterian Church Cemetery
Dixon, Rio Arriba County, New Mexico
Directions: S on CR 549 from NM 75 on W side of general store in Dixon, NM. Keep left and follow road S up onto mesa.
Continue S 0.1 mi S past the Catholic cemetery.

| | |
| --- | --- |
| Cemetery | Embudo Presbyterian Church Cemetery |
| County | Rio Arriba |
| GPS | N36.19255, W105.88720 |
| MAP | |
| | | | | | |
| --- | --- | --- | --- | --- | --- |
| Last name | First name | Birth date | Death date | Age | Inscription |
| ARCHULETA | Ruth Lucero | ~ | 2013 Sep 23 | 91 | Wife of Orlando Archuleta |
| ATENCIO | Corina Mildred | 1937 | 1938 | 1 | ~ |
| BARELA | Candido | 1907 Mar 15 | 1944 Dec 21 | 37 | NM Pfc 119 Inf World War II |
| BRITO | Mike A. | c.1923 | 1995 Feb 16 | 72 | ~ |
| GRIEGO | Lorenza | ~ | 1998 Jul 14 | ~ | ~ |
| LUJAN | J. O. | 1901 Mar 18 | 1969 Mar 18 | 68 | ~ |
| MARTINEZ | Delfin F. | 1917 Oct 12 | 2005 Jan 21 | 87 | Beloved Husband, Father & Grandfather |
| MARTINEZ | Raymond A. | 1944 May 8 | 2008 Jan 7 | 63 | Husband of Phyllis Martinez; Born Dixon, NM |
| SANCHEZ | Albert | ~ | 1920 Dec 1 | ~ | CO Pvt Headquarters Tr 3 Division |
| TAFOYA | Silas | 1894 Dec 12 | 1918 Sep 15 | 23 | Died in France |
New Mexico Transcriptions Projects
New Mexico Headstone Projects
New Mexico Cemetery Projects